Wilbur Island Wetland Mitigation Bank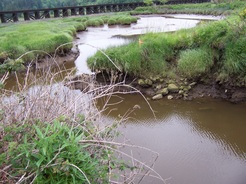 We are authorized to sell riverine, estuarine, palustrine and lacustrine (salt water, tidal and fresh water) mitigation credits to developers or landowners who are applying for a wetlands fill permit in Oregon within our service area, which includes:
the Siuslaw watershed (HUC 17100206), including Florence, Mapleton, Swisshome, Deadwood, Blachly, Horton, Walton, Lorane and Mill Camp;
the Siltcoos watershed (HUC 1700207) incl. Woahink and Tahkenitch lakes, Ada; and
the southern Alsea watersheds (HUC 17100205) including Yachats and Waconda Beach.

Contact us
at
dwilbur@casco.net
for more information on our Wetland Mitigation Bank, visit us on DSL:
Service Area Map
,
RIBITS
, or learn more at
Purchasing Mitigation Credits
.
---
VIEW our Mitigation Banking Fact Sheet at right- or Download this document by clicking on the link below:
​The Wilbur Island Wetland Mitigation Bank contract states that our credit

sales may include all wetland classes: Marine, Estuarine, Riverine, Lacustrine and Palustrine.

We are specifically approved for the following classifications;

all other classes of credits are available by and subject to the approval of the agencies

on a case-by-case basis.

Cowardin classifications: E2EM, PEM, PFO, PSS.
HGM: Estuarine Tidal Fringe, Marine-sourced High and Low marsh, Riverine flow-through, Riverine Impound, Slopes, Mineral flats, Depressional Closed, Depressional Outflow.

Please contact us with any questions about Oregon Wetland Mitigation, Removal/Fill Permits, future changes to the mitigation credit process, or other topics. We may not have the answer right away, but we will work with you to find it!
In loving memory of Sally Owens...
... and with eternal thanks to Shane Hughes of EGR & Assoc, Engineers & Geologists of Eugene - our Engineer, advisor, dear friend and confidant.